Posted by Patty Silla on 21st Oct 2014
Bold, strong and vibrant are words that describe the colors that the Plain Old Order Mennonite and Amish choose to use in their Amish Quilts. Against the backdrop of a starkly white old farmhouse, are rows of brightly colored flowers, surrounding the pathway up to the door, making a welcome for folks to visit.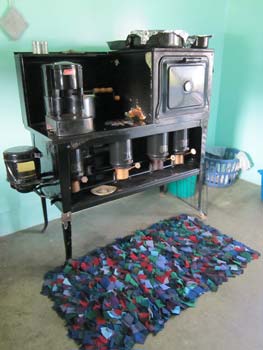 The inside of an Amish home is sparse, with floors usually of linoleum, sometimes wood and no pictures on the walls. There may be several pretty wall calendars and a chime clock. The main focal point of color being the Colorful Amish Quilt that is being hand quilted in the quilt frame, often in the corner of the main living room where captured moments can be spent hand quilting while still in the midst of family activity.
Sewing all of the families clothing along with piecing quilts, creates a lot of scraps that inspire beautiful Mini Postage Stamp Quilts and colorful rag rugs. The Amish Quilter takes small areas and make a color explosion by using practical art. It becomes a joy filled time to work in the kitchen, baking bread in the propane oven and stove while enjoying the Amish colors in the hand made throw rug.
Simplicity in design, yet bold in the use of the Dutch Amish Colors, make spectacular focal points in your home. Perfect for both the traditional decor and modern, these crisp clean designs and colors are sure to please.