Certificate of Authenticity from AmishQuilter
Note: We are in the process of updating all quilt pages to show which certificate they come with.

The purpose of our new certification program (started on 10/2013) is to give you more info about your Amish Quilt purchase. Is the quilt an Amish Styled quilt made by an unknown quilter or is your Quilt a Quilt that was made by a known American Amish or Mennonite Woman. Where possible we will show online a photo of the Amish Quilt in the actual quilting frame in the actual Amish or Mennonite home or a photo of the quilt in the home or a photo of the outside of the Amish Quilters home. No other Amish Quilt business that we know of has a certificate or a photo showing where it was quilted. Note we have three levels of Certification:


Level One Certification is the highest and most narrow authenticity available. Level One quilts are hand quilted by Amish or Mennonite ladies, and their names are right on the Certificate along with the specific quilt information about your quilt. Many of these ladies have a separate link that will lead you to an information page about them, their home and their life. Some ladies will allow us to photograph their profile, some will allow us to photograph inside their home so you can see the quilting frame and their living arrangements, and some, especially the very plain Old Order ladies, only permit photos of the outside of their homes or buggies. Many of these ladies are my personal neighbors and friends. These Amish Quilts come with a "Certficate of Authenticity", see below for the certificate details.



Level Two Certification lets you know that your quilt was made to help a specific need that the Plain community had or it was done by a quilting bee. Many times, these quilts help the Amish pay the salary for the teacher in their one-room schoolhouse. The Amish and Mennonites do not have any government monies come in to pay for their school building, teacher, transportation or supplies, and they rely on Benefits (sales & fund raisers) to help the families pay for this. Another need that these Level Two Certification Quilts fulfill, is to help a family pay for a medical and hospital bill that they have incurred. The Plain People do not have insurance, and they rely on the support of their community and friends to help them pay for these large bills. Level Two quilts may be made by a quilting bee or hand quilted by a woman in her home who wants to donate the proceeds of her quilt to a specific need. Many of these quilts are purchased at One Room Schoolhouse Sales. Your quilt Certificate will state either the school or one of the quilters name (even though there may be more than one quilter)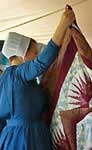 Level Three Certification quilts are beautiful works of art that are Certified to be hand quilted, and are from Lancaster County PA or South Central Pennsylvania. I have purchased these quilts from small shops, Lancater PA Auctions and other Amish Auctions. We may also have purchased from Amish Home Shops - One Amish woman may live along a main road, so she will allow her other quilter friends to sell their quilts from her home since her location is better, or perhaps her house is set up better to have a small quilt shop in it, so her friends display their quilts at her shop. Due to the large numbers of quilts that we offer, we have had to expand into this third category. We do not know the quilters name, but we can certify that we purchased this hand quilted quilt from South Central PA or Lancaster County PA, which is the home of PA Dutch Plain People.
At this time - Only level 1&2 Certification Quilts will come with a certificate (we will be adding certificates to levels 3 in the future). Here is a sample copy of the certificate you will receive for "Level One or Two Certification". The Certificate reads:
~ Certificate of Authenticity ~
This "Certificate of Authenticity" certifies that this Amish Quilt is authentic and hand quilted by an Amish or Mennonite Woman. This quilt is an original piece of practical art by AmishQuilter. You can rest assured that you have in your possession a true original Amish Mennonite Hand Quilted Quilt.
With proper care and handling, your quilt will last for generations to come. To properly care for your investment in this fine quilt just follow a few common sense guidelines. Never display in strong ultraviolet radiation such as direct sunlight. Professionally dry clean or spot clean your quilt.
This certifies that the Amish Quilt ________________________________________________________(title)
Measuring approximately ___________________________________________(size)
Was handquilted by _______________________________________________ (Amish or Mennonite Quilter)
All information and statements contained herein are true and correct.
AmishQuilter 5704 Roxbury Rd., Shippensburg PA 17257