Shipping and Handling Policy
FREE SHIPPING! on all USA Orders (including Alaska and Hawaii)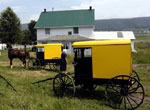 For USA shipments - Generally, we ship using USPS Priority Mail or FedEx Home or Ground Service, this means you should receive your package within 2-5 business days after we ship.
We may change the shipping carrier and method at any time without any notice.
Shipping Cost for INTERNATIONAL Orders:
Canada - $34 per Amish Quilt (or item)
All other countries - $64 per Amish Quilt (or item)
At this time we ship internationaly to: Australia, Canada
We ship internationally by USPS usually Priority Mail International - your package could take between 2-4 weeks to arrive.
We reserve the right to change this as needed, but will email you if there is a change.
If your country is not listed here, email us with your request and we may be able to accommodate your request.