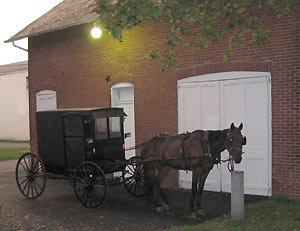 Welcome to our Amish Quilter online shop.

You are welcome to visit our area and pick up your purchased Amish Quilt. Hours are By Chance or Appointment (No Sunday Sales).

My husband and I live in Orrstown/Shippensburg Pennsylvania, a small town in South Central Pennsylvania where the Amish and Old Order Mennonite live. Ours is not a tourist town, and the many Plain People you see riding their bicycles, horse and buggies, or Scooters are our neighbors and friends. The rolling hills that surround this Cumberland Valley are patchworks of grain, corn and peach and apple orchards. The area is interspersed with dairy farms and old limestone houses.
Tradition is strong, and you can drive the country roads and see the Old Order Mennonite and Amish folk driving in their horse and buggies, or commuting home from work on their recumbent bicycles. The plain people located here provide our community the beauty of simplicity of life.
As a way to help keep alive a tradition and skill that is becoming lost, and allow the older Plain ladies a way to contribute to the families needs, I started this Amish Quilt business. Many of our quilts are handquilted by Plain People living within a buggy drive from our home. Other of our Amish Quilts are from Lancaster County PA, the heart of the Pennsylvania Dutch, or from an old fashioned Quilting Bee made to benefit their one room schools.
I hope you enjoy the Amish Quilts here. If you have any questions just email or call me. Thank you for stopping by, Patty.