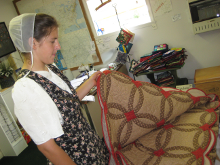 Welcome to our Customer Comments pages. We welcome all reviews, suggestions and anything you would like to share with your fellow customers about your Amish Quilt purchase, shopping experience, custom Amish Quilt experience or any other helpful comments. Help build family traditions with any details about how you decorate your homes in a special way.
M.S-G. NYC
Dear Patty and Katie, I think you have probably outdone yourselves. We received the quilt when we returned home from work yesterday and it exceeded our hopes! It's just fantastic. In fact it looks so wonderful, my husband suggested that we keep it in our city apartment and get something else for the country where we spend far less time...the jury is still 'out' on that one. Thank you for the time, attention and love of a good job that you put into our quilt. We will treasure it. Patty, my mind is a sieve and I forgot the 'name' of the design. Would you mind telling me again? Best of everything. It's been a pleasure to work with you.
BG
Patty, It's GORGEOUS!!!!! Please tell Mary grace we are sooooo excited!
I.H. GA
Patty, Just a quick note to thank you for the quilt. It is beautiful and exceeded my dream of it. Thanks to the ladies and may God bless you all.
M.M. NYC
Dear Patty, Thank you and thanks to the hard working ladies for all of your help and support during this process. I am going to send out the remainder of the payment tomorrow. I am very grateful to you to for allowing me to have such a uniquely beautiful rememberance of my Dad. I will tell everyone I know about your company so that they too can experience both your creativity and your hospitality. Sincerely,
L.D. FL
I received the Irish Chain quilt and love it! Just in time for our cold snap!
Friend
Patty, I received the quilt yesterday and wanted to thank you again! It is so amazingly beautiful and I know my friend will adore it! Please extend many thanks to Frances as well! Have a wonderful day, Angel
D.V. HI
Your Quilts are so beautiful. I wish I could quilt like you. I am in Hawaii and I wish I could come and see you and the beauty of your quilts in person. Thank you for the privillage of seeing your work.
L.D. FL
Patty, I absolutely love the quilt! Anna did a wonderful job. I will forward you a thank you note for Anna. I actually have 3 more quilts I'd like to send you. The pinwheel quilt that was made of older fabrics from my step grandmother. I would like the pinwheels quilted with this feathered circle and the sashings and outside borders quilted with the wavy pattern. I forgot the measurements. I can email you those tomorrow. I am not in a hurry for this one but the next two small quilts I will need within a couple of months, if that is possible.
B.G.
Hi Patty, I was gone for a while so I have just opened the quilt. I also wanted my mother here when I opened it. Lovely, lovely, lovely. Going to save it as a wedding present for my son. I saw your card and I am writing a note to the talented woman who quilted it so that she will know that her quilt will be treasured for years to come.
Jason T.
Hello - I recently purchased one of your quilts as a birthday gift for my mother. The quilt is beautiful, and she really loves it! Thank you!
Kathleen R.
About two days ago, I ordered a quilted wall-hanging from Amish Quilts. It arrived today! Such fast service!! This will be a birthday gift for my twin sister....we turn 60 at the end of the month. The wall-hanging is beautiful and I know she will love it! Blessings to you all
Christine P. Canada
Good Afternoon Patty, I bought an outstanding quilt from you recently, it was an embroidered antique car,twin size. Would be possible to get an other one as a special order. We can discuss the details later. Thank you
A.F.
Oh, Patty...I cannot extend enough thanks to you and Frances!!! Thank you! I look forward to receiving it!
Yours, Dougie :-))) UK
It has arrived, Patty! It was stuck for days in customs! Helena really, really, really LOVES IT! it is even more amazing in real life than online. Thank you!
Dave A.
Thank you. The quilt arrived today and it is beautiful.
Paula P.
Hi! I rec'd the quilt -- it is beautiful! Thank you!
L.H.
Patty, just a quick note to thank you for the quilt. It is beautiful and exceeded my dream of it. Thanks to the ladies and may God bless you all.
George
Looks amazing! I can't wait to give this to my mom. She's going to flip! I haven't let her see the pics yet even, lol. Thanks so much :)
Christine
Patty, The quilt is gorgeous, many many thanks.
Helen B. NYC
Hi Patty, Wanted to let you know .. today, I have written and mailed Anna a thank you note c/o you. Put the quilt on my bed w/new dust ruffle. It looks beautiful and is very 'happifying.' Best regards,
Bobbi
Hi Patty, Quilt is gorgeous...Going to be a wedding present. Just sent a letter for Mary Grace, thanking her. You should have it in a few days.
Jill G. PA
Thank you, Patty. I really appreciate it.
Angela F
Thank you so very much. I appreciate it more than you can imagine.
Angie E Australia
Hello Patty The quilt arrived today and we think it is perfect. Thank you so much. Regards
Christine P. VA
Patty, I recently received the quilt and wanted to thank you once for the beautiful handcrafted artwork. The woman who worked on the piece did a magnificent job and I couldn't be more pleased.
Gina M. TN
Hello, I received the Quillow today and I love it. So pretty and I know my Mom will love it. Thank you so much.
Binnie W.
I received the broken star quilt on Thursday. The quilt is beautiful. Just wanted to let you know how much I like it. I make quilts too, so I can appreciate the skill with which it was made. Please extend my thanks to the Amish lady who made it. Every piece is set in perfectly and the quilting is just beautiful. Thanks again.
Sr Mavis
a sincere thanks.
Madelon S
Dear Patty, The quilt looks just wonderful!! I will call you with my credit card number so that you can send it out a few days sooner...I'm dying to see it 'in person'. I feel like I got a bonus with the quilt...working with you and Katie and being involved in the process each step of the way, its really been great fun and I thank you for including me; purchases of most things (even hand made items) has become so impersonal that working with both of you is a real treat. I'll call you Friday with my card info.
Ingrid H.
Patty, it's beautiful. Thank you and Mary too!
Diedre CA
HI, I am looking for a group to hand quilt a couple of antique quilts that I have purchased the tops and have the batting and backing for.. I am looking for authentic patterns to use on these two 1930-40's quilts.. Do you have Amish ladies who hand quilt existing patterns? I am in San Diego, CA.. am looking to finish these great projects. Thank you
R.L.
Have you ever made a quilt out of men's neckties? I have a friend with a pillow where the front is made out of her grandfather's ties and the back is one of his shirts with the pocket and a handkerchief. I like the pillow a lot but really love some of the photos I found online of quilts made from ties. Do you know how many ties it takes to make of these quilts? How much would you charge if I sent all the ties? Thanks,
J.C. CT
Patty, Thank you for your idea with the different shade blues for the logs. As I thought about the design over the weekend, I became more pleased. What could look more like water and the sea than different shades of blue. So, thank you...this quilt will look really nice. When you have a chance, would you please give me an estimated completion date. Thank you and my best,
Vanessa WV
My mother p away 2 year back. I have this Applique Tree Of Life Quilt. Needs Quilted. Do you do quilting for people? If so how much?
Christine B. CT
I am looking for someone to finish quilting a miniature quilt of mine; I just can't seem to get to it. Also, I have a friend who needs help finishing two quilts for her granddaughters. Do you have someone available who could do this? Thank you,
Rebecca C.
I have a quilt that I already started quilting, but have not had the time to complete it. I am looking to see about how much it would cost to have it hand quilted, and if you even do that? I do not need it bound, just quilted. I can send you more specifics, but need to know if you do quilts that have alreday been made. Thanks,
Teresa H.
I love this quilt but I need it in full size. Can that be arranged? I would want it in the colors shown. Also, what would the price be for the quilt? Thanks.
Joel M.
Dear Patty, The photos attached are an applique quilt my mother began making several years before she passed away. She had started quilting it and completed one corner before it was put on a shelf. The quilt measures 83X98" and is already batted and basted. Would it be possible to get an estimate to finish the quilting for this piece? I want to get it done for my dad to enjoy as a remembrance of Mom. Thank you,
george w.
i am so glad you saw this new pattern! i love the alternating color border. i say yes, if there's a way to incorporate the best of both designs then that would make a beautiful piece. so yes go ahead. i think it would be a great idea as well. thanks again.
Maureen M.
Patty, I know it will be fabulous! You are so kind to be so helpful in this process. They can purchase whatever fabrics they deem best -- whatever the cost, tell them to go 'hog wild' with their choices. I will send the ties out tomorrow in the mail to you. I cannot wait for the process to begin.
Laura D.
I have a small doll quilt I would like quilted. It is 24" X 24" in a drunkard's path pattern. It has a center circle about 5 ¼ " that I would like quilted with a feather circle stencil I am enclosing. The borders would be quilted in another feather patterned stencil. I will enclose. The body of the quilt I would like cross-hatched. In each corner, there are 3 blocks of drunkard's path. Could you please quilt these blocks in the ditch? The fabrics are 1930s reproductions. Please let know if you can do this. Again, I can't send a picture as my camera and me don't understand each other. Thank you!