Many personalities make up the fabric of the Amish and Mennonite community, just as an Amish Quilt is made up of many pieces, colors and hues, sewn into one beautiful and practical work of art. The Amish Quilt represents not only the community of the Amish and Mennonite people: many people working and living in an intertwined society, but also the Amish and Mennonite Quilt presents a picture of the very fabric of their values and life: that honest work is a good thing (hours hand quilting), that simplicity and true values are the best (perfectly fitted seams and curves make beauty out of scraps), and that living pure lives before God and others is a goal to strive for (time honored patterns created in 100% cotton fabrics).
The community of Plain People, the Amish and Mennonite, is vibrant, and their simple way of living is packed with the rewards that a life lived for God, family and community gives. Making beauty from the scraps that life gives, and working with joy to create a oneness of true community - is how the patchwork and hand quilted Amish Quilt symbolizes the very lives of the Plain People.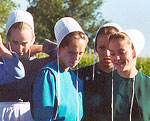 To live in peace, simplicity, humility and service - Peace: the harmony of the many different colors and patterns displayed in the Quilt. Simplicity: Taking the necessity of life: the need for warmth, and by using 100% cotton fabrics, creating beauty and heirloom treasures from that basic need. Humility: Scraps and whole pieces of plain cloth are transformed into today's joys, and tomorrow's heirlooms. Service: The quilts the Amish and Mennonites make are made to be used and loved. Many people do choose to decorate their home with Amish Quilts, but they are first and foremost practical. Although they are true objects of art and superior craftsmanship, they are also practical works of art: ready to grace every home with the beauty and warmth they provide.