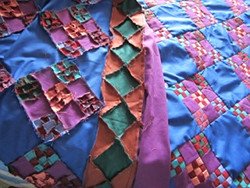 Meet Mary S - Mary S has a smile that makes any room brighter, and she spreads her joy often! Mary is famous for her tiny exquisite piecing with 1/2 inch squares on her postage stamp Quilt tops, which she pieces only in the traditional PA Dutch Amish Colors on her manual non-electric treadle sewing machine.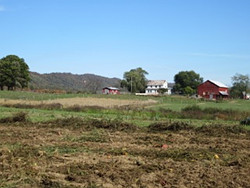 Mary and her single daughter live on the Amish family farm in a building that used to be the old chicken coop, which her sons converted into a small house for them.
Her son and his family live next door in the old Amish family farm house. Many times you can find Mary having supper with her 3 unmarried adult children.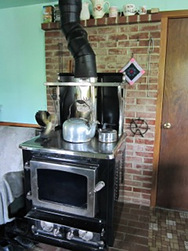 As you probably surmise, Mary lives an extremely simple and plain Amish life, even by our local Amish standards. She is living proof that real joy is not found in possessions! Mary S is Old Order Amish. It is well known that many times the money she earns quilting will be sent to some needy Amish family to pay medical bills.

I have included pictures of her farm, an Amish color Nine Patch sample quilt top (with the back showing so you can see what a quilt top looks like underneath) and her plain cook stove (note the fan that is next to the tea kettle, it helps disperse the heat from the woodstove).