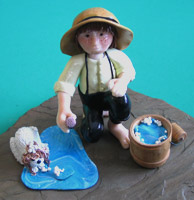 If you have never visited Amish country in Lancaster County, Pennsylvania, then you have no idea what a wonderful vacation you are missing. Whether you are into Amish quilts or just beautiful fresh air, every member of the family will have a fun and interesting time visiting Amish country. Of course, one of the best reasons of all to visit Lancaster County is to shop for the finest Amish quilts that are available today. There are literally thousands of different Amish quilts to choose from at dozens of Amish and Mennonite run shops and auctions. The kids will enjoy all the fun things there are to do and even husbands will enjoy eating all the great Amish foods, admiring the Amish handcrafted furnishings, and perhaps even visiting one of the many breweries that are located in the area. So, get the family together and take a fascinating trip to Amish country and bring home a beautiful and priceless Amish quilt as the best souvenir you will ever own.
Lancaster County is located in the southeastern corner of Pennsylvania, approximately 65 miles from Philadelphia, 70 miles from Baltimore, 100 miles from Washington D.C., and 160 miles from New York City. Driving through the beautiful Pennsylvania countryside is the ideal way to travel to Lancaster County, but you can also choose to fly from just about any destination on most major airlines into the Harrisburg International Airport which is just 35 miles from Amish country. Or, you can fly on U.S. Airways into Lancaster Airport which is right in the heart of Lancaster County Amish country. You can also take the train into Lancaster Station on Amtrak if you like. It does not matter how you get to Lancaster County, just get there!
Amish country in Lancaster County consists of a large farming community that includes such interesting town names as Bird-in-Hand, Ephrata, Intercourse, Paradise, Smoketown, Lititz, and Grasshopper Level. It is the oldest Amish settlement in North America and the second largest Amish community in the United States. Traveling through Amish country is a little bit like traveling back in time. You will immediately feel like you have traveled to a different time or place when you witness all the black horse and buggies clopping down the road, see the Amish men and women dressed in their old-fashioned and unique clothing, and realize that everything seems to move just a little bit slower than it did before you turned off the Pennsylvania Turnpike. Of course, this is not to say that you will be lacking for the modern conveniences that the Amish choose to live without. There are modern hotels, fancy restaurants, movie theatres, amusement parks, and yes even electricity, cars, and phones. However, you can enjoy those conveniences anytime at home, so when you visit Lancaster County, try to understand how the Amish people live and respect their ways of life while you are in their little part of the world.
Now for the important stuff…finding some of those beautiful handmade Amish quilts you have been searching for. A good place to start might include visiting one of the Amish quilting museums that are located in Lancaster County, such as the Quilt and Textile Museum, where you can find out more about the history of Amish quilts, what to look for in Amish quilts, and how Amish quilts are made. You can even pick up an Amish quilting kit if you want to give the intricate art of Amish quilting a try on your own at home. If you are already an experienced quilter or quilt enthusiast, then you might want to come to Lancaster County during the spring each year for the annual Quilters Heritage Celebration. There you can peruse the more than 500 Amish quilts in their quilting exhibit, take an Amish quilting class taught by internationally known Amish quilting teachers, and enjoy talking and meeting with other Amish quilting enthusiasts.
Or you can just go straight to the shopping to find that perfect Amish quilt to take home with you to show off to your family and friends. There are dozens of authentic Amish and Mennonite owned shops and stores in Lancaster Country that offer handmade Amish quilts and other Amish treats. You might even be able to meet the actual Amish quilter who put together your Amish quilt! You can be sure that you will not have any trouble finding Amish quilts to buy in Lancaster County, but if you want a list of stores to start you off with, you can visit Amish Country News or the Pennsylvania Dutch Country websites for extensive information on Amish quilts, dining, lodging, and anything else you might need to know about visiting Lancaster County.
Once you have found your perfect Amish quilt, you might want to visit some of the other fun and interesting places Lancaster County and the surround areas have to offer. For the true Amish country experience, you might want to take an authentic Amish buggy ride through the heart of Amish country and see how the real Amish of today live. You might also want to take a tour of an authentic Amish farmhouse and other locations to learn more about the Amish, their lifestyle, and have all those burning Amish questions you have answered by the people who live there. These are both great ways to really see the true Lancaster County and connect with the Amish and Mennonite people themselves.
Of course, there are other fun non-Amish things to do in Lancaster County as well. The kids might enjoy visiting Dutch Wonderland Family Amusement Park or Hershey Park where the entire town literally smells like delicious chocolate. There are hundreds of antique shops, farmers markets, outlet centers, train museums, wineries, breweries, hiking trails, bike paths, parks, and restaurants that will keep you busy for weeks on end. So, rather than going on that same old vacation to the beach why not spend your next vacation in the beautiful Amish country of Lancaster County, Pennsylvania? It is a wonderful, fascinating, and educational place for the whole family to visit, even if they are not into Amish quilting!