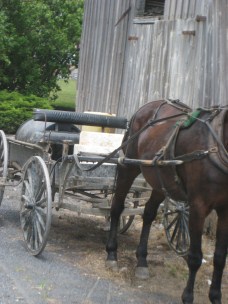 Visiting Amish quilting country is one of the most unique, interesting, and fascinating trips you will ever take in your lifetime. Taking a firsthand look at how the Amish people have managed to hold onto their plain and simple ways of life in Amish quilting country while also interacting with the modern world around them is both educational and entertaining. The fresh country air, horse drawn buggies, and old world feel of Amish quiltingcountry is enough to make anyone want to live a simpler life, if only for a few days.
One of the best things about visiting Amish quilting country is having the opportunity to taste some of the delicious, natural, and homemade foods that are available at the many Amish run restaurants, flea markets, and stores. The Amish have a hearty appetite, due to their long and strenuous work days, so mealtimes are important in Amish quilting country. All Amish meals are handmade using only the freshest ingredients that they grow themselves. Because they are such accomplished farmers, no chemicals are used, making Amish foods some of the freshest and healthiest you can find anywhere in the world.
Unfortunately, many people have not had the opportunity to visit Amish quilting country for themselves and are unable to taste these delicious foods firsthand. Whether you have or have not been able to visit Amish quilting country, you can experience the tastes of Amish quilting country right in your very own home. Like the Amish themselves, Amish recipes are generally very easy to make with few ingredients, however, the results are both filling and delicious. So, check out a few of these tasty recipes direct from Amish quilting country and enjoy a bit of the good life.
Start the day off right with a hearty breakfast Amish quilting country style. This is the first meal of the day and it is usually served at about six in the morning in the typical Amish quilting country home.
| | |
| --- | --- |
| ° | Eggs in the Field: Crumble enough bread slices to cover the bottom of a 9-inch baking pan. Break six to eight eggs onto the bread, one cup of shredded cheese, salt, pepper, and two tablespoons of melted butter. Cover with more crumbled bread and two more tablespoons of melted butter. Bake at 350°F for twenty minutes and enjoy! |
| ° | Spicy Fruit Bake: Grease an 8-inch glass baking dish. Combine sliced peaches, pineapple chunks, dried pitted prunes, and cranberries and place in the baking dish. Over a low flame, mix half a cup of brown sugar, half a stick of butter, and two teaspoons of spicy mustard or horseradish until melted. Pour mixture over fruit and bake at 350°F for forty minutes. Add sliced bananas and bake for five more minutes. Spicy and delicious! |
Dinner is typically the second meal of the day in Amish quilting country and is served at around noontime. This is the meal where everyone except for the school children come home and enjoy a hearty meal together to get them through the rest of the work day.
| | |
| --- | --- |
| ° | Amish Quilt Casserole: In a large baking dish, layer two cups of cooked chicken cut into small pieces, two cups of uncooked macaroni, two cups of milk, two cans of cream of chicken soup, half a cup of chopped red onions, three tablespoons of melted butter, salt and pepper to taste, and one cup of shredded cheese. Bake at 350°F for forty minutes. |
| ° | Hearty Meatballs in Sauce: Mix together one and a half pounds of hamburger, one cup of dried oats, half a cup of chopped onions, half a cup of milk, salt, and pepper. Form into balls and place onto a cookie sheet. Mix half a cup of ketchup, a quarter cup of vinegar, one tablespoon of brown sugar, and one tablespoon of Worcestershire sauce. Pour over meatballs and bake at 350°F for forty minutes. Tasty, easy, and filling! |
Supper is the final large meal of the day in Amish quilting country and is served at around five or six when all of the members of the family are home from work and school. Families in Amish quilting country always eat their meals together if they can help it. This is both to keep the family unit strong as well as to discuss the work that needs to be done throughout the day or to address other pressing family issues.
| | |
| --- | --- |
| ° | Spanish Inspired Amish Chicken: In a 9x13-inch glass baking dish, pour in two cans of stewed tomatoes, two tablespoons of chili powder, two teaspoons of oregano, one teaspoon of cumin, and half a teaspoon of salt. Stir together and place six chicken breasts and/or legs with skins on the top. Bake at 400°F for thirty minutes uncovered then coat the chicken with the tomato mixture and bake for fifteen more minutes. Serve over a bed of rice and a side of refried bean and you have yourself an Amish quilting country fiesta! |
| ° | Pennsylvania Dutch Potato Salad: Boil eight potatoes and cut into cubes; fry six slices of bacon and chop; slice half a cup of cucumbers; and chop half a cup of onions, then set aside. Mix together two cups of sour cream, four tablespoons of vinegar, two teaspoons sugar, one teaspoon salt, half teaspoon dry mustard, a pinch of pepper, and a dash of paprika. Pour over chopped ingredients and toss together lightly. Warm and delicious! |
Finally, one of the best parts of Amish quilting country cooking is the desserts. The Amish are not only world famous for their Amish quilts, but also for their home baked pies, cakes, cookies, and other scrumptious Amish desserts.
| | |
| --- | --- |
| ° | World Famous Shoofly Pie: Mix two cups molasses, two cups warm water, one tablespoon baking soda, and pour into unbaked pie shell. In a separate bowl mix four cups flour, two cups sugar, three tablespoons shortening, three tablespoons butter, one teaspoon cinnamon, one teaspoon ginger, one teaspoon nutmeg, and salt. Mix until crumbs develop and sprinkle chunks onto the top of the pie. Let sit for ten minutes and then bake at 350°F for forty minutes. A classic Amish quilting country favorite! |
| ° | Amish Quilt Country Apples: In a 9x13-inch baking pan, place twelve cored apple halves (Rome or Yellow Delicious) with the skin sides down. In a bowl mix one cup brown sugar, quarter cup peach preserves, quarter cup apple cider, two tablespoons melted butter, quarter teaspoon nutmeg, and quarter teaspoon cinnamon. Pour onto the apple halves, cover the pan with foil, and bake at 350°F for thirty minutes. Remove from the oven and sprinkle one cup of soft oatmeal cookie crumbs on top and coat with juice from the bottom of the pan. Bake for five minutes uncovered and serve with vanilla ice cream. A delicious dessert or before bed snack, just like the kids in Amish quilting country enjoy each fall! |