Choosing the pattern for your custom Amish quilt is an arduous task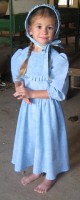 for some that did not know the wide variety of patterns there is to choose from. This does not include all possible patterns in the world, but the ones used by the Amish number to over 24 and many variation of these. Along with the Amish patterns, a person needs to consider the colors to be used. The Amish use dark blues, reds, and purples against white. Their quilts mirror their clothes in color.
The Applique is a technique that can have a variety of endless patterns. For example a flower pattern could have many different small flowers cut from various pieces of fabric into tiny petals and leaves that are hand stitched (or appliqued) into place which adorns the quilt. This technique really shows the detail and quality of the custom Amish quilters' stitching abilities.
The Amish Star is another very popular pattern that is used in many of the custom Amish quilts. It is a 6 point star with a smaller 6 point star inside of the outer one. This pattern has several other names that include the Great Lone Star and the Bethlehem Star. Other star patterns used in Amish quilts are the Stars in Common, Starspin, Star Burst, Broken Twinkling Star, Eight Point Star Patchwork,and Broken Star.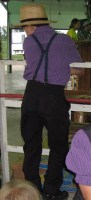 The Amish Log Cabin Quilt Pattern has its inspiration from the pioneer days over 150 years ago. With this, you have a multitude of choices that bring the spirit of adventure our forefathers had when homesteading in this new and wild country. The traditional one incorporates different colored squares into it. Another variation is the log cabin fan patchwork quilt. This uses a fan shaped design instead of squares. Another popular variation places the Amish star in the middle of the square log cabin patchwork.
The Central Diamond Pattern uses three different colors and has a diamond shaped patchwork that covers most of the quilt. This one can be made to fit any color décor in your bedroom and is neutral, so the theme of the room will not be hindered.
Ocean Waves, a pattern also known as Solomon's Puzzle or Drunkard's Path, is a unique pattern that plays games with your eyes. Many children love to follow the maze of possibilities in following the paths this pattern creates for the imagination.
The Trip Around the World pattern uses four different styles of cloth and colors that are then cut into squares and patch worked together. One of the patterns generally has a white or off white color to it so accents to the work can be visibly seen.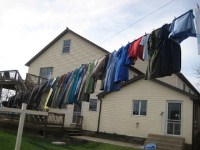 The Wedding Ring pattern is also very popular as a wedding gift or by newlyweds on their choice of their first quilt together as a couple. This pattern is not what you think it might be. There are no circular rings. Instead there are two triangles patched together to make one whole. Each half is a different color but the same shape, just like a marriage.
These are just some of the many custom Amish Quilt patterns available to you when you are deciding on just which one is a perfect fit for your custom Amish quilt. The final decision is yours to make.