Product Description
Photo shows the quilt in the our Amish Quilters home
Bargello Sunshine Shadow Patchwork Quilt. Magnificent in its use of color and design this Bargello Sunshine Shadow Patchwork Quilt just shouts splendor! The Dark Navy border contrasts wonderfully with the many colors of the Bargello. This Patchwork Quilt was both Pieced together and handquilted by Lizzie S, our Amish quilter who lives just over the mountain from us. It measures approx 101x114 inches to fit your King size bed. You can read about Lizzie S in our Meet Our Amish Quilters information page at the very bottom of the home page. Bargello Sunshine Shadow Patchwork Quilt has approximately 5-6 handquilted stitches per inch. Photo shows the quilt in Lizzies Amish home before she put the binding on.
Set in the hollow between two hills at the end of a long winding and bumpy road is the house that one of our Amish Quilters grew up in. Her husband made the quilt frame for her years ago and it has probably never been empty since! She combines her love to quilt with a great eye for color to make an heirloom that will last for years.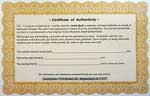 This Amish Quilt comes with a Level One Certification (click here for more info) stating the name of the quilter.
13101PVLS