Where are these Amish custom quilters I would be hiring? They live in our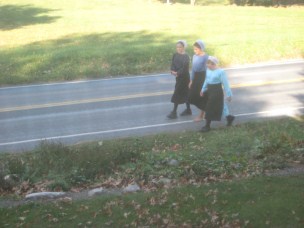 neighborhood where we live and they are our friends. We ourselves are not Amish, but many of our neighbors are. The Silla family has lived in this simple area for many years. Many members of the family are artisans by profession. The simple Amish lifestyle and lack of outside noise and interruptions is a great atmosphere for inspiration for the art that is created here.
The area of the country I am talking about is in the heart of the Pennsylvania Dutch Country, specifically Cumberland Valley Pa. This settlement is considered as various boroughs and was the first one was founded in 1730. Since that time, many different families have settled here including over 300 Amish and Mennonite families. For an idea of the population and growth of one town - As of the year 2000, US census of the population of Shippensburg PA has grown to 5,586. This is just 342 more than were living here back in 1940.
As their belief dictate, the Amish travel around town by foot or in a horse and buggy, the children and sometimes adults may be seen riding their scooters. This makes meeting and conversing with the Amish members of the community very easy - you see them everywhere. Over the years, many members of my family have made friends in the Amish community. There are many long lasting and strong friendships that now do exist. This is why the AmishQuilter is considered a friend to the Amish. It is because we really are not just a business partner.
The real Amish quilters are the Amish and Mennonite ladies of the community that are also our friends. If extra help is needed in creating your custom made Amish quilt, the ladies of the nearby Mennonite community can be enlisted to assist, but all of the decisions pertaining to your quilt will be handled by an Amish quilting expert. The lifestyle and approach to working is very similar to the Amish and they also believe everything should be done by hand to praise and honor God. This is why they are chosen to participate in this quilt making venture.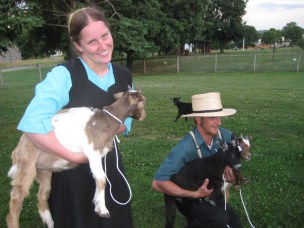 Another source of Amish ladies is in Lancaster, Pennsylvania. They are located just a short two hours away. There, the Amish community is over 30,000 strong. While they are a larger workforce, the local Amish families in the Shippensburg area are our close personal friends. This is why a majority of the custom made Amish quilts by the AmishQuilter are made by them and with their involvement.
We are strongly confident that the Amish quilts sold by us will be created to the same specifications and quality of Amish quilts of the past. This is because we personally know the Amish ladies that are doing all of the work on them. They are our neighbors and we trust one another. Our families are also close friends and we do many activities together.
We know exactly who is making your custom quilt by name. Most of the ladies are very modest and does not wish to give their names out, but we can ask them if you really want to know. Sometime we can get photos of the quilt in process, but some Amish ladies will not let us take any photos.