The Custom Amish Quilts have been made by the women of the Amish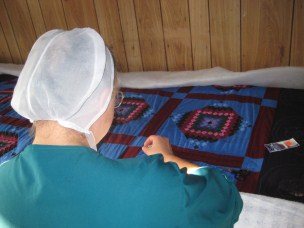 community in Pennsylvania Dutch country since the 1800's. This was never meant to be an industry but it was rather a socializing event of the women and a way to help keep their families warm at night. They would be able to sit around and talk about their lives and the events that are occurring in their lives while keeping their hands busy accomplishing a useful task. Since the Amish do and make everything in their lives by hand without the aid of machinery, time is precious to them.
The quality of all Amish products has been known to anyone whom has ever seen or purchased one. Since there is no machinery involved, everything is hands on so the process is somewhat slower. This allows for an increased time for each quilt to be fully inspected to make sure it is the highest of quality before it is said to be finished.
If you have ever passed by an Amish community you can make a purchase of one of these fine blankets when you see a sign in one of the homes or shops that says "Quilts sold here, No Sunday Sales". If you have a particular style you wish to have on a quilt, most of the Amish ladies are more than happy to entertain your ideas; all you need to do is to ask.
While there are a few of these communities scattered across America, most of them are concentrated in Pennsylvania and Missouri. For this reason most Americans do not have an Amish community near them to place that kind of order.
To make the connection, there are people that work with the Amish community to bring their wonderful custom made quilts to the internet. The Amish cannot do them themselves since they truly wish to stay close to God and will not use any type of machine, including computers.
The variety of quilts being offered today are not the ones many people remember from the old movies where the quilts were made from the scraps of cloth left over from the clothes being handmade. Today these custom quits have unique patterns and designed that are now identified with the Amish community are from new material.
A few of the more common designed used by the Amish women in their quilts are flowers, eight pointed stars and the log cabin design pattern. Some of the variations to these include the broken star log cabin, courthouse steps quilt and the log cabin fan quilt.
Each one is made with tiny stitches which are all hand placed there with care. Each piece of fabric is also hand cut out so the precise amount is used to create these custom and wonderful quilts.
Best of all these custom made quilts are very functional, especially on cold winter nights. The Amish women know how to keep their family warm with a quilt. This is a necessity with them since they only use a fire place to warm their homes. This old world tradition of handmade custom Amish quilts can now be yours. Then you can rest assured your family will be warm all night long no matter how cold it gets outside.