Embroidered Flower Bouquet Amish Quilt 88x105
Product Description
As you know, Embroidered quilts are hard to find, and we are thrilled to have this quilt made by Annie and Rachel S, two Amish ladies from a small Amish community close to us. The embroidered squares display rose flowers surrounded by their leaves, all framed by burgundy and pink. Embroidered Flower Bouquet Applique Quilt measures approximately 88 x 105 inches to fit your Double or Full size bed. There are approximately 7-8 handquilted stitches per inch. The length of this quilt will allow for a shallow pillow tuck.
Slowing down to a pace that is not dependent on motor vehicles, electric wires and electronic transmissions, the Amish have time to focus on a different set of values, of family and community. Quilting is an activity that allows the grandmother time to share and visit with those around her, and create beauty and practical art at the same time. The Amish quilter loves creating detailed tracings of wonder.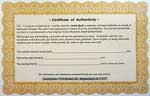 This Amish Quilt comes with a Level One Certification (click here for more info) stating the name of the quilter.
12105AS1JC