Rocky Mountain Rising Star Patchwork Amish Quilt 104x113
Product Description
Rocky Mountain Rising Star Patchwork Amish Quilt is a wonderful combination of fabris like the Victorian Paradise Rose in a taupe background and cedar green, contrasted on a background of light cream, making this Amish Quilt a classic beauty. It measures approximately 104 x 113 inches to fit your large King size bed. Rocky Mountain Rising Star Patchwork Amish Quilt was hand quilted by Esther M, an Old Order Mennonite quilter who stitches approximately 5-6 handquilted stitches per inch.
The Old Order Mennonite quilter loves creating detailed tracings of wonder on a backdrop of practical art. Simplicity, family and living close to God and the earth is the lifestyle that the Old Order Mennonite live everyday.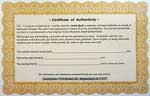 This Amish Quilt comes with a Level One Certification (click here for more info) stating the name of the quilter.
This quilt comes with a free fabric storage bag.
12107ESM1WS