Miniature Postage Trip Around World Amish Dutch Quilt 92x104
Product Description
Photo of the Quilt top on Marys Treadle sewing machine.
Photo shows the Quilt being quilted in Fannies Amish home.
This Dutch Mini Postage Stamp Trip Around the World Patchwork Amish Quilt which measures approximately 92x 104 inches to fit your Double or small Queen size bed is amazing in the fine piecing and stunning in the use of bold Amish Dutch colors. Please note, the red is a deep burgundy color. It appears lighter and brighter in the photos. This quilt top was sewn by Mary S, who is Amish, on her treadle sewing machine, and was hand quilted by Fannie P, our Amish Quilter who lives just over the mountain from me. This is a masterpiece of traditional Amish and Pennsylvania Dutch colors. Each of the tiny squares measures about 5/8 inch (just slightly larger than 1/2 inch). Fannie P, has hand stitched approximately 6-7 handquilted stitches per inch. You can read about both Mary S and Fannie P on our Meet Our Amish Quilters information pages located at the very bottom of our home page.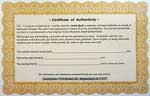 This Amish Quilt comes with a Level One Certification (click here for more info) stating the name of the quilter.
13103PVFP