Product Description
This Heart Rose Bud Applique Amish Quilt measures approximately 101 x 111 inches to fit your King size bed. There are approximately 6-7 handquilted stitches per inch on this delightful design with wonderful even handquilting displayed. This is such an unusual design from Mary B, who lives on a small farm just over the mountain from us. With the hearts and rose buds hand appliqued on the top they make this quilt to be a spectacular work of art. You can read about Mary B in our Meet our Amish Quilters information page.
Living the farmlands of Southcentral Pennsylvania make the Amish quilters cherish and love the land where they labor daily. Mary B lives in a large farmhouse with her huge family. On Fridays and Saturdays you can stop by their roadside stand and get the best doughnuts in the valley. A photo of her OPEN sign is in our Meet our Amish Quilters information page.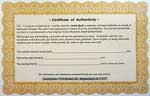 This Amish Quilt comes with a Level One Certification (click here for more info) stating the name of the quilter.
13004PVMB