Product Description
This Boston Commons Patchwork Amish Quilt was handquilted with fabrics in ocean colors with accents of black. Sea green, teal, sand and black make a stunning quilt that measures approximately 103 x 105 inches to fit your King size bed. Note that the quilt is almost square, which will fit the square shape of the King size bed, but there will be very little extra length to tuck under your pillows. The fabric on the back is black and white fabric. This quilt was sewn together and then handquilted by Emma F, an Amish Quilter who lives in a neighboring Amish community. There are approximately 6 handquilted stitches per inch.
The Amish of south central Pennsylvania warmly embrace the sense of community that they live in, and actively pass their beliefs and heritage down from generation to generation. Even the great great grandparents can be seen holding small children and rock them to sleep on the porch swings of their dawdy houses, and they are still active on the family farm up into their 90s.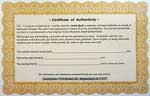 This Amish Quilt comes with a Level One Certification (click here for more info) stating the name of the quilter.
12095EF1PC